OUR STORY
At Akel's Carpet One, we are more than a carpet store. We have been part of our community for over 35 years, providing excellent service and the best value in town on luxury vinyl, tile, hardwood, carpet, cabinets, and more. Carpet One is the largest flooring company and supports Akel's Carpet One's buying power. Therefore, we can bring you quality products with the best warranties and pricing. In addition to residential flooring in Arkansas, Akel's Carpet One can handle all your kitchen and bathroom, countertops, cabinets, and flooring needs for commercial, multi-family, and rental properties in eight states and 27 cities. Akel's Carpet One treats you like a family striving to "Make Your Home, Beautiful, For Less!"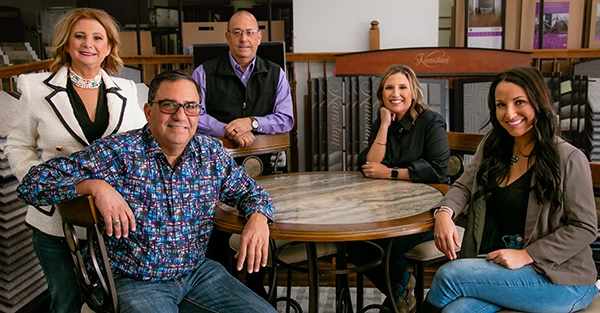 How Everything Started
Richard Akel returned to his Little Rock hometown in 1987 after traveling the world playing tennis professionally — the same year, the first of his three daughters was born so he decided to start a lumber yard that eventually became one of the most successful flooring companies in the state. Now, it's a family affair here at Akel's, with four of five family members working to continue the business into the next generation while Richard travels to lead his teams, and looks out for his community to bring the latest technologies, quality product selection, and the best flooring prices!
Richard has always done a great job embedding his best qualities into Akel's Carpet One culture. Doing whatever it takes, turning ideas into realities, acting with integrity, and most importantly, treating everyone like family.
We're The Experts!
One thing that separates Akel's Carpet One from the rest — each Akel's Carpet One flooring and cabinet specialist manages your installation from A to Z. You have one point of contact throughout the project's life that ensures your installation is set up for success and lasts for years. Suppose there is an unexpected delay or unforeseen events. In that case, our team does whatever it takes to make sure everything is communicated timely and correctly, and the job gets done right!
Your home is where love grows, and we are honored to be a part of that journey. We get so much joy each time we transform a customer's space: "Making It Beautiful, for Less!" whether it's updating your old, uncomfortable carpet into the pretty, extremely comfortable carpet that your family can sit on the floor and make new memories on; or changing your kitchen to be functional and allowing you to cook and host for your family meals; or it's building a sanctuary bathroom for you that is relaxing and will enable you to escape the day to day.
Why Akel's Carpet One?
In the past 35 years, Akel's Carpet One has served more than 25,000 customers in Central Arkansas, and we hope to serve you soon! Please email contact@akelscarpetone.com for any questions or project needs.
Our Awards!
We have been awarded the Reader's Choice for the best flooring store for five years in a row. Along with receiving this amazing award, we've also worked on exciting projects like installing flooring for a home on the Home Makeover Show with Ty Pennington, as well as installing flooring in the Bill and Hillary Clinton National Airport in Little Rock, AR. Though time keeps passing and our business keeps growing, our commitment to community remains a strong focus. We are proud to be involved in our local community by supporting the Boys and Girls Club, Little Leagues, the Little Rock Zoo and more. We proudly serve Little Rock, Sherwood and Maumelle. Please visit us soon to experience our products, services, and people.
Areas Served
Little Rock, AR | Sherwood, AR | Maumelle, AR | North Little Rock, AR | Jacksonville, AR | Bryant, AR | Benton, AR | Cabot, AR | Conway, AR | Newport, AR | Crystal Hill, AR | Rixey, AR | Cammack Village, AR | Shannon Hills, AR | Woodyardville, AR | Alpine, AR