Mannington Adura Luxury Vinyl Flooring
Akel's Carpet One Floor & Home is your local Mannington luxury vinyl dealer. Stop by our showroom to speak with a flooring professional and explore out collection of Mannington luxury vinyl products including the Mannington Adura collection. Mannington has been a trusted name in flooring for years, and their luxury vinyl floors are no exception to the high quality you except from their flooring. Mannington is a United States based company and products many different flooring products for residential and commercial use. Continue reading below to learn about the benefits of installing Adura in your home.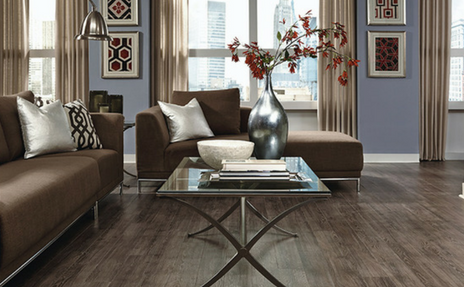 Benefits of Mannington Adura
Adura luxury vinyl floors come in tile and plank options. Just like most luxury vinyl flooring, Adura is made from several layers that all play a role in how the flooring will function in your home. They are made to mimic the authentic looks of hardwood and stone flooring. Mannington luxury vinyl floors are so realistic that your guests will never tell the difference unless you tell them.
Adura luxury vinyl, unlike real wood and stone, includes Mannington's ScratchResist technology, so it will resist all scratches, scuffs, and other surface blemishes. Adura is made to handle heavy foot traffic, moisture, humidity, and other external stresses without warping or buckling.
Mannington Adura is the pet friendly flooring any home needs. These floors are made to be tough and to last. If you cannot get to an accidental spill or mess right away there is no need to worry. Pet claws don't stand a chance against the scratch resistant surface, so you can enjoy your floors.
Luxury vinyl floors are an ideal alternative to natural hardwood or stone flooring. You are not only getting an incredibly durable floor, but you are also spending less money and time having them installed and maintained. Luxury vinyl flooring can be installed anywhere in your home, so you can have the look of hardwood in your kitchen or mudroom without worrying about them being damaged from daily activities.
Be sure to visit us in Sherwood, Conway, Bryant, or Little Rock.