Akels Carpet One Floor & Home is your local source when it comes to remodeling your kitchen or bathroom. We have stylish and durable flooring options for you to browse, as well as cabinets, countertops, backsplash tile, and custom showers. Whether you're seeking a quick update or need to completely overhaul your kitchen or bathroom, we can help.
This year's kitchen and bathroom trends are bolder than ever. While neutral palettes are still all the rage, pops of color add sparks of fun. The introduction of color makes it easy to choose colors you're drawn to for your base cabinets or bathroom vanity. Another popular trend is mixed metals. Whether you choose metal hardware or metal light fixtures, combining distinct metals will bring attention to the details.
Kitchen & Bathroom Flooring
Tileis a top choice for kitchens and bathroom floors because of its durability and style. It's easy to maintain and spills are a breeze to clean up. Tile comes in diverse types, styles, colors, and patterns. Porcelain and ceramic are the most common options and can withstand daily challenges. Vinyl flooring is an up-and-coming bathroom and kitchen option. These floors are available in planks and tiles that resemble wood or stone. They are durable and resistant to moisture and wear.
Waterproof flooring is truly a modern-day wonder. Allowing us to balance our style with our lifestyle, waterproof flooring means less stress and more time relaxing at home. Today, thousands of waterproof flooring options make it easier to embrace the hottest trends without compromise. We carry an impressive range of waterproof flooring products, including vinyl flooring, tile, laminate, and more.
Whether your style is classic or modern, there are countless choices to consider, and you'll never be lacking in options. Waterproof flooring, regardless of the form, works similarly. Moisture and spills are immediately trapped on the floor's surface, where they can be removed using a clean towel and a bit of water. Stains, odors, and damages won't ever linger in their wake.
Tile Backsplashes
With backsplash and wall tiles, you can express your personality in your kitchen or bathroom. Inspiration is all around you in your home, online, or you can stop by our showroom. Backsplash tile was originally used to protect walls from accidental food and grease splatter from cooking tops. This tradition is back in fashion and it's easy to understand why. The perfect tile backsplash serves critical purposes. An expression of your own unique style, a bold backsplash makes your walls stand out, rather than blend in. The perfect addition to almost any type of commercial or residential space, a tile backsplash is attainable for all budgets and tastes. Of course, with thousands of textures, colors, and materials to choose, it's easy to customize your perfect look.
When it comes to designing custom backsplashes, our experts can help you make your dream a reality. We'll collaborate with you to help find the perfect tile solution, from initial browsing to product recommendations, to arrangement and installation.
Cabinetry
From entry-level value cabinetry to semi-custom and custom designs, we offer a world of options - including cabinets that feature furniture quality finishes, dovetail joints and quality craftsmanship. Brands include Omega, KitchenCraft, Decora, Diamond, Kemper, Aristokraft, Norcraft, Echelon, Schrock and Bellmont.
Cabinets are a functional and stylish blueprint to your kitchen or bathroom. They support your countertops and offer storage solutions. Stock Cabinets comes pre-assembled in multiple sizes for you to choose from, all you must know is which color and style you like. We also offer custom cabinet solutions for those who genuinely want to make their dream kitchen or bathroom become reality.
We are proud to beat the home centers for price and quality. Some of our popular cabinet options are solid wood frame, one-half" plywood boxes with finished exteriors, UV coated natural interiors, full overlay 5-piece doors and drawer fronts, soft close 6-way adjustable concealed European style hinges.
Base cabinets are what you typically see on the bottom half of a kitchen or bathroom. Used to support countertops, sinks, and more, base cabinets are ideal areas for storage in a kitchen. They can also be used to create custom islands or bathroom vanities.
Wall cabinets are mounted to walls and come in distinctive depths, colors, heights, as well as different door choices. Wall cabinets are well-known for storing dishes, cups, and even mixing bowls.
Tall cabinets are not as common as base and wall cabinets and go all the way from your floor to the ceiling. Ideal for pantries and storage, tall cabinets have as much as four feet of storage space. These cabinets can also encase a refrigerator or large appliance to make a kitchen look seamless.
Custom Showers
Our sales professionals can help guide you in the right direction when it comes to designing your own custom tiled shower. Although you may not think about it often, you spend time every day in your bathroom. If you have been thinking about updating your bathroom, stop by our showroom and learn more about custom tiled showers.
Updating your bathroom can be a fun project when you oversee designing it. While we'll guide you and answer any questions, you have full control over the design of your custom tile shower. For our custom shower projects, we encourage customers to choose a porcelain tile option for its waterproof qualities and durability. Tiles can also come in options with non-slip surfaces. A custom tiled shower creates a spa-like retreat in your own bathroom. While it costs about the same as a fiberglass or acrylic option, your tile shower adds value to your home.
Learn More
As a locally owned member of Carpet One Floor & Home, the world's largest cooperative of independent flooring stores, we're the region's most trusted resource for kitchen and bathroom renovations and related products. Visit our showrooms in Little Rock and Sherwood, AR, and get acquainted with better bathrooms and kitchens.
Learn More About Kitchens & Bathrooms
Countertops

When it comes to finding beautiful new countertops to complete your space, there are a range of factors to consider.

Omega Cabinets

Omega cabinets are made with the busiest homes in mind. Omega cabinets give you the strength you need with styles that wow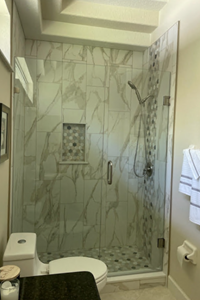 Courtney from Carpet One did an amazing job redoing my bathroom! She helped me every step of the way starting from the design choices, made sure I had all the materials needed on-site to get the job done in a timely manner (1 month), connected me with a reputable plumber and glass company to finish the job, and much more.
Everything was done on time with care and very professional! The contractors she used were great and she made sure they did the job in a timely manner. I would highly recommend Courtney and her company to do any renovation jobs you might need!
— Andrea