Hardwood Installation Services
You've done your window shopping – and plenty of research. Now you're finally ready to follow through on your longtime dream of hardwood flooring, and you can't wait to begin. But slow down for a moment and consider this: the next steps could determine the life of your soon-to-be new hardwood floor. The fact of the matter is that your floor's installation will help determine its long term functionality and appearance. Ensuring a correct installation is one of the smartest decisions you'll ever make.
At Akel's Carpet One Floor & Home, we want you love your new hardwood floor for many years to come. We offer up some of the most trusted hardwood flooring installations services in the region and our installation team is dedicated to keeping up with all the latest techniques and skills to ensure every home is treated like their own home. Adding in our impressive product warranties, we can assure you that each professional hardwood flooring installation is completed with care and confidence.
Do you want to learn more about hardwood flooring, and hardwood installation services? We've always got you covered. Call us to schedule your FREE onsite project estimate- including professional measurement- today, or visit one of our showrooms in Little Rock, Sherwood, Conway, and Bryant.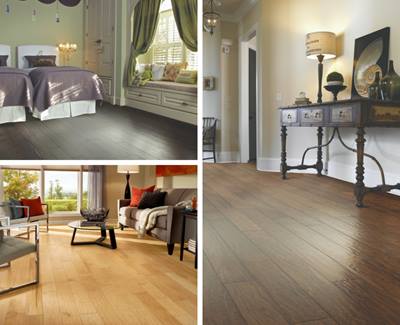 Installation Overview
When it comes installing a hardwood floor, it's not unusual for the process to quickly get complicated. Precision and accuracy is required every step of the way: from taking measurements of your room and prepping subfloors, all the way to trimming down base boards and laying down planks. Novices take note: hardwood flooring installation is a complex job that many ultimately opt to leave up to the professionals.
Best Hardwood Flooring Installation Services
While it's tempting to try going it yourself, is it really worth it to attempt your hardwood installation yourself? There could be some serious repercussions. Novices can have a high margin of error, and if installed incorrectly, your new floor might wear out before its time or even become seriously damaged. Often times, damages aren't covered by your manufacturers' warranty, which require professional installation.
Where Can Hardwood Be Installed?
Hardwood flooring is suitable for home settings where there isn't significant moisture and foot traffic. Here are some popular places for hardwood:
Bedrooms

Hardwood flooring is a beautiful addition to your bedroom, especially if you're someone who likes to redecorate frequently. Bold and eclectic, your hardwood flooring will last longer than carpeting, can be swept clean, and can be refinished as your tastes evolve.

Living Room

Adding a dramatic base to the space where you entertain and enjoy, hardwood flooring is always gorgeous in the living room. Whether you choose to leave your hardwood exposed for a lux, utilitarian look, or opt to accentuate your room with a coordinating area rug, hardwood is elegant, sophisticated, and has a high-end appearance.